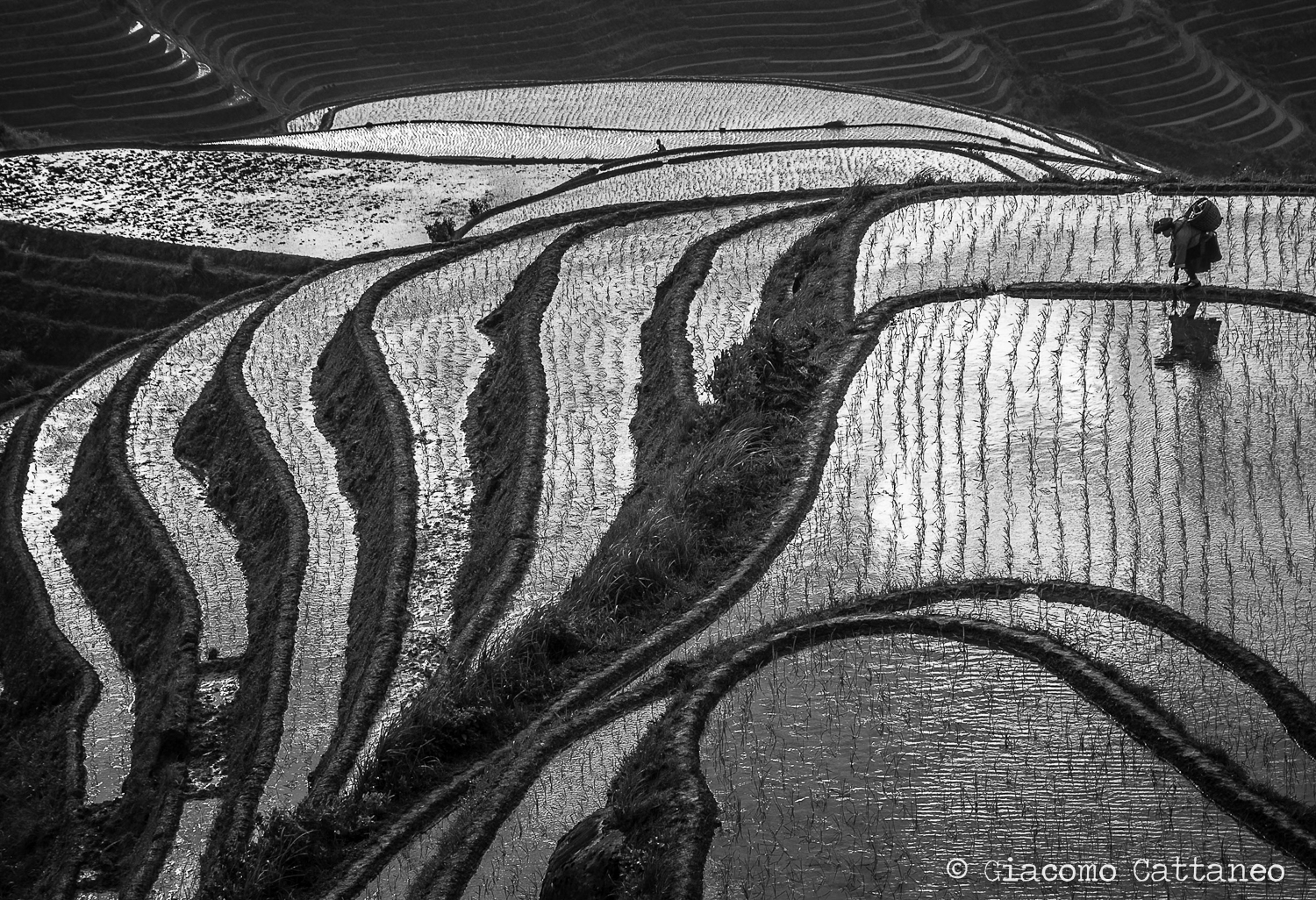 Water games
2013 - Pushkar, India
Brother and sisters playing at a washing pond next to the holy lake of Pushkar. This is the picture I used to symbolize my journey through photography, my exhibition in 2013 and... well, I love this picture. ;)
Lookout on the valley
2013 - Ghandruk, Nepal
On the Annapurna South trek, it's up and down the valleys. So it is for this grandma and her granddaughter - somebody clearly has more energy to go on.
Still in Shibuya
2016 - Tokyo, Japan
While taking a similar picture of my brother, a model was being photographed for a photoshoot. As we kept on rushing together to the centre of the lively crossing every time people would start walking with a green light, we had the chance to interact. She then kindly agreed to pose for me a couple of times - sorry brother, but she's definitely a prettier subject! =)
Bamboos
2013 - Arashiyama forest, Kyoto, Japan
Sunshine filters through the thick bamboo forest
Pink surprise
2013 - Bolivian highlands
As part of a 5-days tour across the highlands, lagunas were to be expected, but what I have no idea of is that they were home for hundres of pink flamingos. What a surprise!
City life
2013 - Kolkata, India
Locals brush their teeth and wash the kitchenware in an artificial pond in the middle of the city.
Cool in the water
2013 - Neko Harbour, Antarctica
Very funny when walking on land, penguins suddenly turn elegant and dynamic when swimming in the cold waters of Antarctica.
Golden Temple
2013 - Amritsar, India
Sikh bathing in the holy waters of Amritsar's Golden Temple, in the northern region of Punjab. I partially fell into the water to take this picture (and my bag did), but after waiting for hours to capture the moment, there was no hesitation!
Curious eyes
2013 - Yangshuo, China
After having played rock-paper-scissors with a group of kids in the countryside outside of Yangshuo, I briefly turned around to look at the classroom where they were waiting for their teacher. The little curious girl was still looking out for me, so that we could one last time wave our hands.
Working in the fields
2013 - Yangshuo, China
Farmers working in the fields - somehow, I get often attracted by the countryside, as it offers so many glimpses of real life.
Floating mystery
2013 - Yangshuo, China
At the end of about 2h biking on a dirt path leading "somewhere", I ended up in a mesmerizing corner of the world. Trying to escape the tourist-heavy river Yangshuo, I found a deserted patch of land, crossed by a river, with water buffalos in there. Beautiful and peaceful. As if to add a mystery to it, at one point an umbrella came down floating on the river, and decided to pass exactly below such a branch leaning onto the water. Still today I have no idea where from and how =)
Diving
2013 - Varanasi, India
Kids diving in the holy waters of Varanasi... not that they care if they are holy or not!
Half-steamed bird
2013 - Bolivian highlands
A laguna with termal waters of about 35°C gives flamingos the chance to eat some delicious algae, without getting thorougly cooked ;)
Hit the ball!
2013 - Varanasi, India
Kids playing criquet in the dedalus of streets in Varanasi.
Kolkata's girl
2013 - Kolkata, India
In one of the many made-up barrack clusters in between buildings, I met a girl. Difficult to comment.
On the shores of Titicaca's lake
2013 - Isla del Sol, Bolivia
A blue jewel at almost 4'000sms, Lake Titicaca is the highest navigable lake in the world. A group of women walks its shores in traditional clothes.
The flag
2014 - Jerusalem, Israel
Jerusalem is a nexus of three religions, and a wonderful mix of cultures. Here a girl and her dad walk below a window displaying the flag os Israel.
Dirt path
2013 - Yangshuo, China
As I continued to bike alongside a dirt path leading to not sure where, this old lady waved at me - I am still confused if she wanted me to get off her land, or if she encouraged me to keep on going as I would end up somewhere magical (I did.)
Green flair
2013 - Ranakpur, India
Wakling amidst white marble columns, a woman wears a green sari and is hit by the sunrays filtering through.
Up the stairs
2013 - On the way to the Annapurna Base Camp, Nepal
Locals walk to another point in the valley on the get these foliage, the ideal one for their oxes. The basked is hold up with a fabric band around their heads. I tried it, it's crazy heavy - respect for their neck muscles!
Ouch
2013 - Vernadsky Research Base, Antarctica
A leopart sea lion - the largest of its species - toys with a penguin, as a cat would do with a mice, before making it its lunch. Maybe tough to look at, but nature at its peak.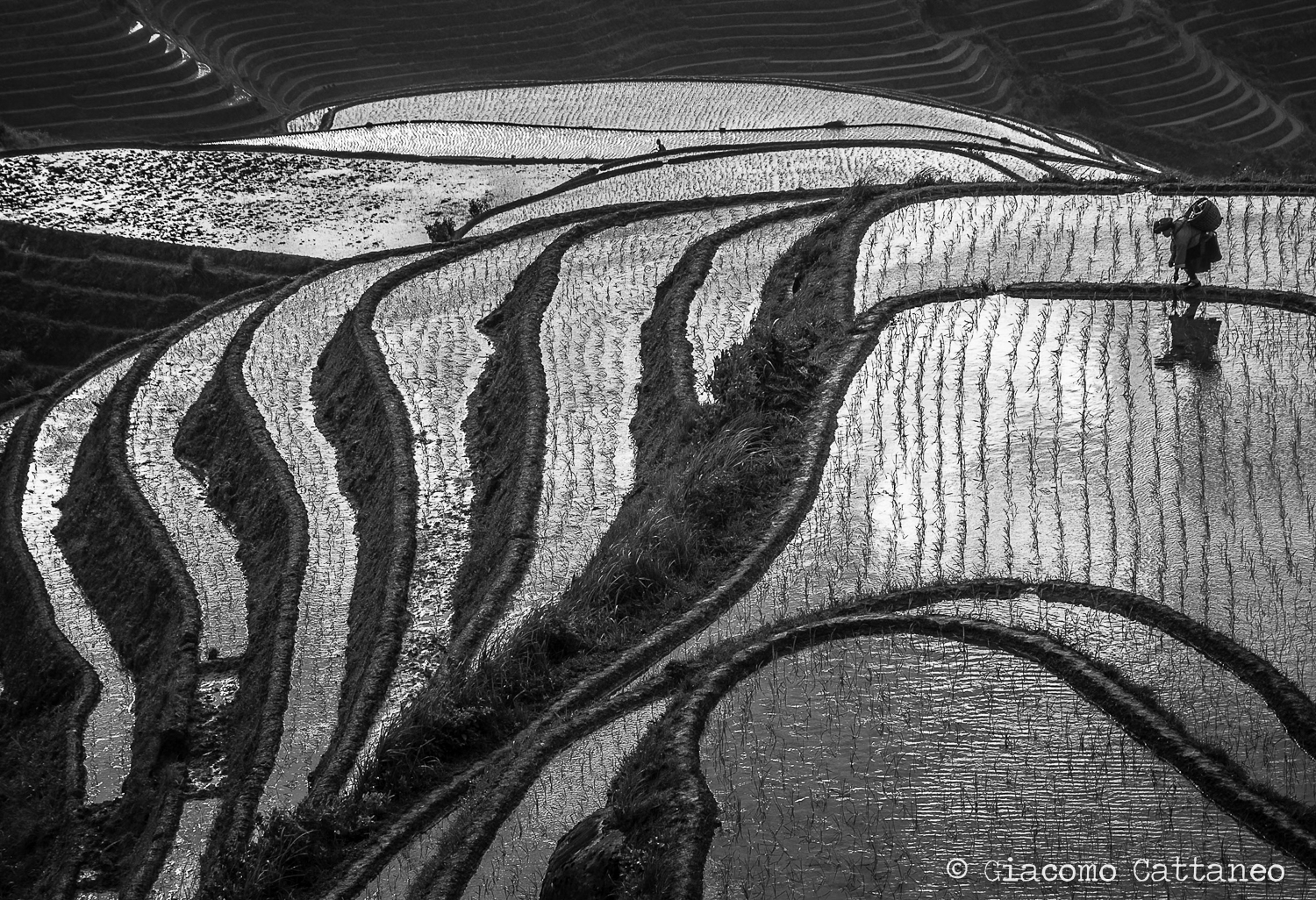 Rice fields
2013 - Longshen rice terraces, China
Also called the "Dragon's backbone" rice terraces, the fields provide a thousands mirrors of the sunlight emerging behind the mountains at dawn
Up the hill
2013 - Taxco, Mexico
Close to a former factory manufacturing the first edition of VW beetles & buses, the pictoresque town is stormed by white beetle taxis running up the hills.
Paradise island
2013 - Huahine, French Polynesia
No better place to train with the local favourite sport: the outrigger canoe, or "va'a"
Paying respects
2013 - Nagasaki, Japan
Students in Japan will often go on field trips to either Hiroshima or Nagasaki, to learn and pay their respects to the victims of those tragedies. It is said that the Peace statute's right hand is raised upward to point to the threat of nuclear weapons while the horizontally extended left hand symbolizes peace. The gently closed eyes are said to offer a prayer for the repose of the bomb victims'souls.
Railway
2013 - on the way to Amritsar, India
Travelling in second-class in India is an experience itself, with so many encounters. This is a picture I had been wanting to take for long as I remembered a similar one from a famous photographer. Happy I could find the right moment and a curious kid looking out at a weird me hanging out of the train.
Rainbow on my head
2013 - Easter Island, Chile
Instead of a Golden Pot, in the Pacific ocean at the end of a rainbow you'll find a Moai.
Rat temple
2013 - Karni Mata Temple, Bikaner, India
Legend has it that Laxman, Karni Mata's stepson, drowned in a pond in Kapil Sarovar in Kolayat Tehsil while he was attempting to drink from it. Karni Mata implored Yama, the god of death, to revive him. First refusing, Yama eventually relented, permitting Laxman and all of Karni mata's male children to be reincarnated as rats. Thus, today people travel great distances to come to the Rat Temple and pay their respects to the 20'000 black rats. There is also an albino rat around... who sees it, is lucky hundreds time! Chance wants that I saw it ;)
Red dragon
2013 - Shanghai, China
Early in the mornings locals will meet at the Bund on the river's shores to engage in tai chi, walking backwards (still unsure why) or swirl such "dragons" as in the picture.